Children have an innate curiosity about the world around them: when their interest is engaged, they have this desire to learn more and explore. Our role as educators is to nurture each child's curiosity and provide learning opportunities that are engaging and stimulating, through an adapted curriculum.
Our approach is play based, as play is an essential part of early learning. Through play, children develop their curiosity, their problem solving skills, their verbal and nonverbal skills and their knowledge and understanding of the world. By interacting through play with adults and other children, they develop their emotional intelligence: they acquire confidence, learn how to cooperate, share, solve potential conflicts and communicate effectively. They also develop their gross and fine motor skills and learn about healthy habits. Through our play-based curriculum, children acquire skills for life.
'Play is equal to formal education in terms of its fundamental role in enabling children to engage positively with the complexities of the world around them'.
Playlink play policy
'Play is often talked about as if it were a relief from serious learning. But for children play is serious learning. Play is really the work of childhood'.
Fred Rogers
Our Curriculum Framework
FIN uses the International Early Years Curriculum (IEYC) as a framework for its bilingual programme.
The IEYC is a new research-based curriculum recognizing global best practice in early childhood education and the developmental needs of 2-5 year olds. It supports key areas of learning through holistic enquiry and play-based approaches that cover all curriculum areas including personal, social and emotional development.
The IEYC approach is based on eight guiding principles:
The earliest years of life are important in their own right
Children should be supported to learn and develop at their own unique pace
Play is an essential aspect of all children's learning and development
Learning happens when developmentally- appropriate teacher-scaffolded and child-initiated experiences harness children's natural curiosity in an enabling environment-independent and interdependent learning experiences create a context for personal development and are the foundation of international mindedness
Knowledge and skills development lead to an increasing sense of understanding when children are provided with opportunities to explore and express their ideas in multiple ways
Ongoing assessment, in the form of evaluation and reflection, is effective when it involves a learning-link with the home
Learning should be motivating, engaging and fun, opening up a world of wonder for children where personal interests can flourish
Our long experience in education enables us to continuously enrich our curriculum and offer the best learning environment for our children. We use research-based resources such as the Numicon multi-sensory maths programme to create confident mathematicians right from the start, or the Ben and Betty award-winning phonics approach to help our children develop their love of reading.
Unique Dual Language Approach
Our pedagogical approach is based on current research in language acquisition and brain development. One common misconception about language acquisition is that the first language that a child learns might interfere with the learning of a second language.
But research worldwide has shown that a child's brain has an unlimited capacity for learning languages. A strong basis in the home language is a key factor in enhancing bilingual learners' achievement and self-esteem. It provides the best foundation for learning additional languages and it is therefore vital to continue to develop the first language, alongside the new language that is introduced.
Our objective is to support both native Arabic speakers and native English speakers through our curriculum: both will be able to continue to develop their communication and literacy skills in their native language, while acquiring competency in an additional language. Arabic is not just an option added to a curriculum in English: it is a language of instruction that will be used by children in all areas of learning, including maths and knowledge of the world.
Such a bilingual approach brings definite cognitive advantages to the child: greater awareness of how language operates, enhanced problem solving abilities, heightened creative potential and better awareness of the importance of context and audience in language use.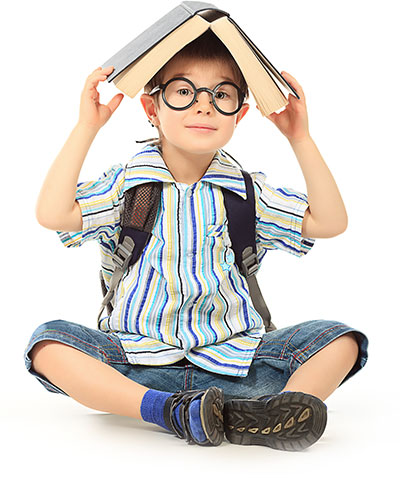 I am neither very clever nor especially gifted. I am only very, very curious!
Einstein
Process of Learning
The IEYC focuses on a process of learning rather than relying solely on learning outcomes to drive a child's development. Our IEYC process of learning captures children's natural curiosity as a starting point and balances child-initiated and teacher-scaffolded provision within an enabling environment.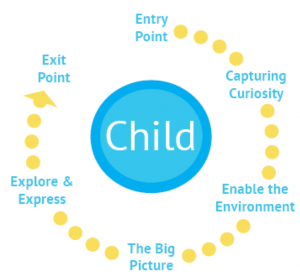 Rooted in Values
FIN recognises that high quality provisions helps children develop positive dispositions and attitudes which lay the foundations for becoming lifelong learners. FIN also firmly believes that such positive attitudes can only be nurtured through acknowledging children's heritage, culture and beliefs thus empowering them to feel secure, confident and to take pride in their identity. FIN has the firm conviction that curricula needs to be adapted to the unique culture, setting and needs of the child and therefore has adopted some of the best practice from around the world and adapted them to suit the cultural needs of its children.